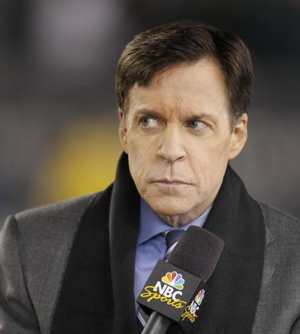 The murder-suicide Jovan Belcher was involved in this past weekend is an absolute tragedy. It's a tragedy for his girlfriend, Kasandra Perkins's, family. It's a tragedy for Belcher's family because they seemingly didn't see it coming. I guess when Perkins and Belcher split up weeks before this happened and were working on getting back together, that might raise some red flags. But it didn't in this case. Except for one.
Anyway, Costas, during his halftime speech, went on an anti-gun rant, agreeing with this article by Jason Whitlock. Costas offered perspective to us, people who obviously don't have one. Costas has a history of these types of rants, but this one was out of place. During a nationally televised football game, he chose to blame Jovan Belcher's murder-suicide on gun control, saying that if Belcher did not have a gun, he and his girlfriend would be alive today. It's almost a tragedy that the national TV audience was subject to this rant by Costas. According to this Deadspin article, it was likely the very sport that Costas was covering last night that may have caused Belcher's act of violence. But, let's have some perspective. Let's listen to what Costas has to say.
So, perspective. Perspective is that Belcher decided to kill his girlfriend. He would have done it with a gun or not. He would have killed himself with a gun or not because he decided to do that. Was it because of a lot of head hits from the game of football? Maybe. Could've been. But Costas isn't going to say that on national TV during a football game because he wanted to push his agenda and probably the NBC Network's agenda, which I think it completely wrong. Whether I agree with gun control or not, that doesn't become the issue. The issue becomes Costas getting on his soapbox and letting us know, the people who don't know any better, that gun control will keep things like this from happening.
It's so mind-numbingly short-sighted and reactionary that I'll let Twitter react for me.
Does Bob Costas know that people are murdered everyday by means other than gunshots? Removing guns will not stop psychos from killing people

— Jason Kelce (@Jkelce) December 3, 2012
Yes, Bob Costas, guns are the problem. Nicole Brown Simpson would be alive today if OJ hadn't shot her with that knife.

— Todd Kincannon (@ToddKincannon) December 3, 2012
Bob Costas gave an anti 2nd Amendment rant during a game that features a team with a guy who used guns to shoot dogs as their quarterback.

— S.M (@redsteeze) December 3, 2012
Hey Bob Costas, Jeffery Dahmer used a dumbbell to kill his 1st victim..we should ban dumbbells...or just rename them Costasbells?

— brandi smith(@blakergirl75) December 3, 2012
A woman killed her husband with a shovel yesterday in our hometown...should we have stricter regulations at Home Depot? #BobCostas

— RightWingB (@RightWingB) December 3, 2012
Screw you Bob Costas. Gun control kills. Just look at Chicago. Only a punk like you would politicize a tragedy like this.

— Kelly(@KLSouth) December 3, 2012
Shame on NBC & Bob Costas for that embarrassing anti-gun screed. Luckily, Brady Quinn's words were far more intelligent & relevant.

— Ted Newton (@Ted_Newton) December 3, 2012
Yeah, it's kind of like that.